1 - Jimi Hendrix
Jimi Hendrix was born in Seattle, Washington, on November 27, 1942. His mother named him John Allen Hendrix and raised him alone while his father, Al Hendrix, was off fighting in World War II. When his mother became sick from alcoholism, Hendrix was sent to live with relatives in Berkeley, California. When his father returned from Europe in 1945 he took back Hendrix, divorced his wife, and renamed him James Marshall Hendrix. When Jimi was 13 his father taught him to play an acoustic guitar. In 1959 Jimi dropped out of high school and enlisted in the U.S. Army, but soon became disenchanted with military service. After he broke his ankle during a training pa
rachute jump, he was honorably discharged. He then went to work as a sideman on the rhythm-and-blues circuit, honing his craft but making little or no money. Jimi got restless being a sideman and moved to New York City hoping to get a break in the music business. Through his friend Curtis Knight, Jimi discovered the music scene in Greenwich Village, which left indelible impressions on him. It was here that he began taking drugs, among them marijuana, pep pi
lls and cocaine. In 1966, while Jimi was performing with his own band called James & the Blue Flames at Cafe Wha?, John Hammond Jr. approached Jimi about the Flames playing backup for him at Cafe Au Go Go. Jimi agreed and during the show's finale, Hammond let Jimi cut loose on Bo Diddley's "I'm the Man." Linda Keith, girlfriend of The Rolling Stones guitarist Keith Richards, was one of Jimi's biggest fans and it was she who told friend Chase Chandler, a band manager, about Jimi. When Chandler heard Jimi play, he asked him to come to London to form his own band, and while there Chandler made the simple change in Jimi's name by formally dropping James and replacing it with Jimi. Having settled in England with a new band called the Jimi Hendrix Experience, which consisted of Jimi as guitarist and lea
d singer, bass player Noel Redding and drummer Mitch Mitchell, Jimi took the country by storm with the release of his first single "Hey, Joe." In the summer of 1967 Jimi performed back in the USA at the Monterey Pop Festival, a mix-up backstage forced Jimi to follow The Whoonstage, where after a superb performance Jimi tore up the house by trashing his guitar in a wild frenzy. Afterwards, Jimi's career skyrocketed with the release of the Experience's first two albums, "Are You Experienced?" and "Axis: Bold as Love," which catapulted him to
the top of the charts. However, tensions, possibly connected with Jimi's drug use and the constant presence of hangers-on in the studio and elsewhere, began to fracture some of his relationships, including Chas Chandler, who quit as manager in February 1968. In September 1968 the Experience released their most successful album, "Electric Ladyland." However, in early 1969 bassist Redding left the Experience and was replaced by Billy Cox, an old army buddy who Jimi had jammed with. Jimi began experimenting with different musicians. For the
Woodstock music festival Jimi put together an outfit called the Gypsies, Sun and Rainbows, with Mitchell and Cox as well as a second guitarist and two percussionists. Their one and only performance in August 1969 at Woodstock took place near Bethel, New York, where Hendrix and his band were to be the closing headline act. Because of the delay getting there and the logistical problems, Jimi performed on the morning of the fourth and final day. Only 25,000 people
of the original 400,000 stayed to watch Jimi and his band as the closing music number, where Jimi's searing rendering of "The Star-Spangled Banner" became the anthem for counterculture. After Woodstock, Jimi formed a new band with Cox on bass and Buddy Miles on drums with the May 1970 release of the album "The Band of Gypsys." Jimi's last album, "Cry of L
ove", featured Cox on bass and former Experience drummer Mitchell on drums. However, Jimi's drug problem finally caught up with him. On the night of September 17, 1970, while living in London, Jimi took some sleeping pills, which were prescribed for his live-in girlfriend Monika Danneman. Sometime after midnight, Jimi threw up from an apparent allergic reaction to the pills and then passed out. Danneman, thinking him to be all right, went out to get cigarettes for them. When she returned, she found him lying where he collapsed, having inhaled his own vomit, and and she couldn't wake him. Danneman called an ambulance, which took him to a nearby hospital, but Jimi Hendrix was pronounced dead a short while later without regaining consciousness. He was 27 years old. Jimi Hendrix's life was short, but his impact on the rock guitar is still being heard which set the course for a new era of rock music.

2 - Jimmy Page (Led Zeppelin)
Jimmy Page, born James Patrick Page on the 9th of January 1944.Born in Heston, Middlesex, London England.His father was an Industrial personnel manager and mother worked as a Doctor's Secretary.Page first picked up a guitar when he was 12 years old, he took some lessons in Kingston but was mainly self taught.Early influences of Jimmy's were Scooty Moore and James Burton. One of his first guitars was a second hand 1959 Futurama Grazioso. James Page later on was also influenced by acoustic folk playing of Bert Jansch and John Renbourn, and the blues sounds of Elmore James and

B.B. King.At 14, Jimmy played Huw Wheldon's All Your Own

talent quest programme in a skiffle band, which was popular English music at the time.Page left School at 14 to pursue music, he then joined a band called The Crusaders. Page toured with The Crusaders for almost 2 years and later played on several records of the singer Neil Christian, including the November 1962 Single "The Road to Love".During his stint with Christian, Page fell seriously ill with glandular fever and had to stop touring.While recovering, Page decided to put his musical career on hold and concentrate on his other love, painting. He enrolled at Sutton Art College in Surrey.At college Page would often jam on stage at the marquee with band such as Alexis Korner's Blues Inc and with guitarist Eric Clapton & Jeff Beck.One night he was spotted by John Gibb of The Silhouettes, who asked him to help record some singles for EMI, including "The Worrying Kid".Page then got an offer from Mike Leander of Decca Records which gave him regular studio work as a session guitarist.On his first session for the label was the recording "Diamonds" by Jet Harris & Tony Meehan which went to Number 1 on the singles chart in early 1963.After brief stints with Carter-Lewis & The Southerners, Mike Hurst's group, and Mickey Finn and the Blue Men. Page committed himself to full-time session work. As a session guitarist he was known as 'Little Jim' so there was no confusion with Big Jim Sullivan i.e. 'Big Jim'. Page was the favoured session guitarist of producer Shel Talmy, and therefore he ended up doing session work on songs for The Who and The Kinks as a direct result of the Talmy connection.In 1964 Page's studio output included Marianne Faithfull's "As Tears Go By" ,The Nashville Teens " Tobacco Road", The Rolling Stones "Heart of Stone", Van Morrison's "Baby Please Don't Go" and "Here Comes the Night", Dave Berry's "The Crying" and "My Baby Left Me" and Breand Lee's "Is It True". Under the auspices of producer Talmy, Page contributed to The Kinks 1964 debut album (although, despite rumours to the contrary, he did not play any of the guitar solos); and he sat in on the sessions for The Who's first single "I Can't Explain", and played on the B-side "Bald Headed Woman".In 1965, Page was hired by Rolling Stones manager Andrew Loog Olham to act as house producer and A&R man for the new lable Immediate Records, which also allowed him to play on and/or produce tracks by John Mayall, Nico, Chirs Farlowe and Eric Clapton. Page also formed a brief songwriting partnership with then romantic interest, Jackie DeShannon. He worked as session musician on the Al Stewart album Love Chronicles in 1969. He also played guitar on five tracks of Joe Cocker's debut album, With a Little Help from My Friends.


3 - Eric Clapton
Eric Patrick Clapton was born on 30 March 1945 in his grandparents' home at 1 The Green, Ripley, Surrey, England. He was the son of 16-year-old Patricia Molly Clapton (b. 7 January 1929, d. March 1999) and Edward Walter Fryer (b. 21 March 1920, d. 1985), a 24-year-old Canadian soldier stationed in England during World War II. Before Eric was born, Fryer returned to his wife in Canada.It was extraordinarily difficult for an unmarried 16-year-old to raise a child on her own in the mid-1940s. Pat's parents, Rose and Jack Clapp, stepped in as surrogate parents and raised Eric as their own. Thus, he grew up believing his mother was his sister. His grandparents never legally adopted him, but remained his legal guardians until 1963. Eric's last name comes from Rose's first husband and Pat's father, Reginald Cecil Clapton (d. 1933).Eric's mother, Pat, eventually married and moved to Canada and Germany as her husband, Frank MacDonald, continued his military career. They had two girls and a boy. Eric's half-brother, Brian, was killed in a road accident in 1974 at the age of 26. His half-sisters are Cheryl (b. May 1953) and Heather (b. September 1958).Eric was raised in a musical household. His grandmother played piano and his uncle and mother both enjoyed listening to the sounds of the big bands. Pat later told Eric's official biographer, Ray Coleman, that his father was a gifted musician, playing piano in several dance bands in the Surrey area.
Quiet and polite, he was characterized as an above-average student with an aptitude for art. But, from his earliest years in school, he realized something was not quite right when he wrote his name as "Eric Clapton" and his parents' names as "Mr. and Mrs. Clapp". At the age of nine, he learned the truth about his parentage when Pat returned to England with his six-year-old half brother for a visit. This singular event affected him deeply and was a defining moment in his life. He became moody and distant and stopped applying himself at school. Emotionally scarred by this event, Eric failed the all-important 11 Plus Exams. He was sent to St. Bede's Secondary Modern School and two years later, entered the art branch of Holyfield Road School.By 1958, Rock and Roll had exploded onto the world. For his 13th birthday, Eric asked for a guitar. Finding the inexpensive German-made Hoyer difficult to play - it had steel strings - he put it aside. In 1961, when he was 16, Eric began studying at the Kingston College of Art on a one-year probation. He was expelled at the end of that time for lack of progress as he had not submitted enough work. The reason? Guitar playing and listening to the blues dominated his waking hours.Typical of his introspective nature, Eric looked beneath the surface and explored the roots of rock in American Blues. The blues also meshed perfectly with his self-perception as an outsider and of being "different" from other people. Sometime in 1962, he asked for his grandparents' help in purchasing a £100 electric double cutaway Kay (a Gibson ES-335 clone) after hearing the electric blues of Freddie King, B.B. King, Muddy Waters, Buddy Guy, and others.Eric spent his early days in music busking around Richmond and Kingston, he also began spending time in London and the West End. In early 1963, 17 year-old Eric joined his first band, The Roosters. Following the band's demise in August 1963, he spent one month in the pop-oriented Casey Jones and The Engineers. Before turning to music as a full-time career, he supported himself as a laborer at building sites, working alongside his grandfather, a master bricklayer and plasterer.In October 1963, Keith Relf and Paul Samwell-Smith recruited him to become a member of The Yardbirds because Clapton was the most talked about guitar player on the R&B pub circuit. During his 18-month tenure with The Yardbirds, he earned his nickname, Slowhand, and recorded his first albums: Five Live Yardbirds and Sonny Boy Williamson and The Yardbirds. The band also recorded the single, "Good Morning Little Schoolgirl". But, Eric had not abandoned his serious research into the American Blues. When The Yardbirds began moving towards a more commercial sound with "For Your Love", he quit. His path in music was the blues.In April 1965, John Mayall invited Eric to join his band, John Mayall's Bluesbreakers. With this group, Clapton established his reputation as a guitarist and earned his second nickname: "God". It came from an admirer's graffiti on the wall of London's Islington Tube Station that boldly proclaimed "Clapton is God." Eric's time with the band was turbulent and he left for a while to tour Greece with friends. Upon his return from Greece, Eric rejoined the Bluesbreakers. It was during this time that the now classic Blues Breakers With Eric Clapton was recorded. While with the Bluesbreakers, Eric also recorded a one-off four-track session with a band dubbed "The Powerhouse". This studio band included John Paul Jones, Steve Winwood and Jack Bruce.After leaving the Bluesbreakers for a second and final time in July 1966, Eric teamed up with Jack Bruce and Ginger Baker to form Cream. Extensive touring in the U.S. and three solid albums - Fresh Cream, Disraeli Gears, and Wheels of Fire - brought the band worldwide acclaim. While a member of Cream, he cemented his reputation as rock's premier guitarist and was elevated to superstar status. Although Cream was together for only two years, they are considered one of the most influential rock groups of the modern era. Clapton was unique because he did not simply replicate the blues riffs he heard on records. He incorporated the emotion of the original performances into his own style of playing, thus expanding the vocabulary of blues guitar. Cream crumbled beneath the weight of the member's egos and constant arguing. They disbanded after two final performances at London's Royal Albert Hall on 26 November 1968.
Following Cream's break-up, Clapton founded Blind Faith - rock's first "supergroup" - with Steve Winwood, Ginger Baker, and Rick Grech. Disbanding after one album and a disastrous American tour, Eric tried to hide from his growing fame by touring as a sideman with Delaney & Bonnie & Friends. While with this outfit, Eric was encouraged to sing by Delaney Bramlett. He also began composing more. A live album from the Delaney & Bonnie tour was released in 1970. Clapton's self-titled debut was released that same year.n the summer of 1970, Eric formed Derek and the Dominos with Jim Gordon, Carl Radle and Bobby Whitlock from Delaney & Bonnie's band . The Dominos would go on to record the seminal rock album, Layla and Other Assorted Love Songs. A concept album, its theme revolved around Clapton's unrequited love for George Harrison's wife, Patti. The band would drift apart following an American tour and a failed attempt at recording a second album.Hit hard by the break up of The Dominos, the commercial failure of the Layla album and his unrequited love, Eric sunk into three years of heroin addiction. Although he rarely emerged from his Surrey Estate, he filled box upon box with tapes of songs. He kicked his drug addiction and re-launched his career in January 1973 with two concerts at London's Rainbow Theater organized by his friend, Pete Townshend (The Who). The concerts represented a turning point in his career. In 1974, he reappeared with a new style and sound with 461 Ocean Boulevard. Eric had become an assured vocalist and composer in addition to a guitar hero.With each album after 461 Ocean Boulevard, Eric reinvented himself musically. Throughout the 1970s and early 1980s, albums and tours would follow year in and year out. In 1985, Clapton found a new audience following his performance at the worldwide charity concert, Live Aid. Annual stands at the Royal Albert Hall and successful albums like August, Journeyman and the Crossroads box set kept him well in the public mind. In the late 80s, he carved out a second career as the composer of film scores. His career went from strength to strength and reached new heights in 1992 with the release of Unplugged and the Grammy winning single, "Tears In Heaven."In 1994, Eric returned to his blues roots with the release of From The Cradle. The album was Clapton's tribute to his musical heroes and contained cover versions of blues classics. 1997 brought an excursion into electronica with the release of TDF's Retail Therapy . Eric posed as X-Sample in the studio "band" TDF. In 1998, he released the soul-influenced Pilgrim, his first album of all new material in nine years. In 2000, he continued his love affair with the blues when he recorded an album with American blues legend, B.B. King. Riding With The King was released in June and within three weeks of release, was certified gold.Shortly after the release of Riding With The King, Clapton was back in the studio recording his next solo project. Reptile was released in March 2001. In late 2002, he began to record a new studio album. Work continued through the summer of 2003 and enough material was recorded for two albums. In addition to new solo material, Eric recorded covers of Robert Johnson songs during these sessions. The Johnson songs were assembled and in March 2004, Eric's tribute album, Me and Mr. Johnson was released. The solo material recorded during these sessions was released in 2005 on Back Home.In 2005, Eric also revisted the past. He, Ginger Baker and Jack Bruce re-formed Cream for four very special reunion shows at London's Royal Albert Hall. The concerts took place at the venue where their farewell shows took place 37 years earlier, in November 1968. In October 2005, the men performed three further concerts at New York's Madison Square Garden. The London shows were released on CD and DVD in late 2005.Eric's next recording project was to be produced by one of the architects of the "Tulsa Sound," J.J. Cale. Eric had long admired Cale's work, having recorded cover versions of "After Midnight," "Cocaine," and "Travelin' Light." After working in the studio a short time, it turned into a collaborative effort. The Road To Escondido was released on 7 November 2006 to critical acclaim. It won the Grammy Award for Best Contemporary Blues Album (Vocal or Instrumental) at the 50th Annual Awards Ceremony in Los Angeles on 10 February 2008.In his more than 40 year career, Eric Clapton has received many awards. He is the only triple inductee into the Rock & Roll Hall Of Fame (as a member of both the Yardbirds and Cream and as a solo artist). He has also won or shared in eighteen Grammy Awards.Eric has also contributed to numerous artists' albums over the decades. The most well known session occurred in September 1968, when he added guitar to George Harrison's composition, "While My Guitar Gently Weeps." It is on the album, The Beatles (best known as "The White Album"). He can also be heard on albums by Aretha Franklin, Steven Stills, Bob Dylan, Elton John, Plastic Ono Band (John Lennon and Yoko Ono), Ringo Starr, Sting, and Roger Waters.Eric has always toured extensively performing thousands of concerts around the globe. Recent solo world tours took place in 2001, 2004 and 2006 / 2007 and a 27 date Summer Tour in 2008 which visited the eastern U.S., Canada and Europe. Additionally, in February 2008 Eric performed three concerts with long-time friend Steve Winwood at New York's Madison Square Garden. In 2009, Eric will again be on the road with his band visiting Japan, New Zealand and Australia before returning home for a 11 night stand at London's Royal Albert Hall in May.
After conquering his heroin addiction in the early 70s, Eric replaced it with an addiction to alcohol. Throughout the remainder of the decade and into the 1980s, his life and work suffered due to his alcoholism. In January 1982, Eric entered the Hazelden Foundation, a rehabilitation facility in the United States. He did backslide but entered rehab a second time a few years later. He has been sober since 1987 through the 12 steps of Alcoholics Anonymous. Since that time, Eric has been committed to working with others who suffer from addictions to drugs and alcohol.In February 1998, Eric announced the opening of Crossroads Centre, a rehabilitation facility for drug and alcohol abuse on the island of Antigua. One of its principles is to provide subsidized care for some of the poorest people of the Caribbean who can not afford such care on their own. A foundation was established to provide "scholarships" for these individuals. On 24 June 1999, Clapton auctioned 100 of his guitars, including "Brownie" (the guitar on which he recorded "Layla"), at Christie's Auction House / New York. The 1999 auction netted almost $5 million (US) for the foundation. On 30 June 1999, Clapton hosted a concert to benefit the Centre at New York City's Madison Square Garden. Proceeds from its airing on America's VH1 and DVD and video sales benefited the Centre. Five years later, Eric planned the second and final major fundraising effort for the Centre. On 4, 5 and 6 June 2004, he hosted the First Crossroads Guitar Festival in Dallas, Texas. The three day event presented the cream of the world's guitarists in a benefit event for the Centre. The event was filmed and proceeds from the sale of the DVD also benefit the foundation. Additionally, a second guitar auction took place on 24 June 2004. It raised an additional $6 million for the foundation and included the sale of "Blackie", his legendary Fender Stratocaster and a cherry red Gibson ES335, known as "The Cream Guitar". The Second Crossroads Guitar Festival, with proceeds again benefitting the Crossroads Centre Foundation, took place on 28 July 2007 in Chicago, Illinois. The event was filmed and a DVD was released on 6 November 2007.In October 2007, Eric's autobiography, Clapton, was published. It is available in twelve languages and topped the best-seller lists around the world.Eric is married. He and his wife, Melia, have three daughters - Julie Rose (b. June 2001), Ella Mae (b. January 2003) and Sophie (b. February 2005). The couple married on 1 January 2002.
Eric's eldest child is his daughter, Ruth (b. January 1985).
His son, Conor (b. August 1986), died on 20 March 1991 when he fell from a window in his mother's New York City apartment. Conor's mother is Lori del Santo, a film actress / television personality.Eric married his first wife, Pattie Boyd Harrison on 27 March 1979. They had no children and divorced in 1989.
4 - Slash (Guns N' Roses / Snakepit)
Saul Hudson, mainly known as Slash, was born on July 23, 1965, and was raised in Stoke-on-Trent. Both his parents worked in the entertainment business, his mother being a clothing designer (she did some of David Bowie's costumes) and his father being an art director for a record company. When Slash was 11 he moved with his mother to Los Angeles, leaving his father behind in England, although he eventually joined them in L.A. years later. Slash became sort of an outsider at school since he didn't really fit in with other kids. In the mid 70s his parents separated and Slash moved in with his grandmother. During this time Slash got interested in BMX riding, and went on to win several awards and money in competitions. When he was 15 he got his first guitar, and his schoolwork started to go downhill as he skipped class to sit playing guitar all day. Slash eventually got so tired of school that he dropped out in 11th grade. As he lived in Los Angeles, a city flourishing with new, young rock bands, he quickly got in touch with people to jam with. After meeting Steven Adler the two of them formed a band called Road Crew. Then he met Izzy Stradlin who played in a band with Axl Rose, and after hearing Axl sing live, he was set on getting him in his band. Soon a bass player answered one of Slash's ads in the paper, and Slash (guitar), Steven (drums), Izzy (guitar), Axl (vocals) and Duff McKagan (bass) formed Guns N' Roses in 1986. Soon enough, GNR were known across the globe as the new rock n' roll sensation. Album sales went sky high and the band was having a blast on their world tours, and during this time Slash worked with artists like Michael Jackson on the Dangerous album and Lenny Kravitz, just to name two. But after the Use Your Illusion tour, GNR decided to take a break. Slash however, needed to play music and so he formed his own band Slash's Snakepit. With the success of this bands album It's Five O'Clock Somewhere (1995), Slash told the public that Slash's Snakepit would be back again. During this time Slash and Axl were having some heated arguments about Guns N' Roses and what would happen next. Guns N' Roses as we knew them then, was terminated by the result as Slash decided to leave the band, handing all rights of the band name over to Axl. After this Slash did a few gigs here and there, formed a band called Blues Ball who played blues covers, and even brought back Slash's Snakepit as he said he would, although they didn't last very long this time either. In 2000, Slash met Perla Ferrar and on October 15, 2001, married her. It's not surprising that he wore black leather pants, a white shirt and his faithful black leather jacket to the wedding! His new status as a married man didn't slow him down, though. In 2003, Velvet Revolver was formed by the former members of Guns N' Roses; Slash, Duff and Matt (who replaced Steven in 1990), Scott Weiland (vocals) from Stone Temple Pilots and Dave Kushner (guitar) from Wasted Youth. Velvet Revolver's debut album Contraband (2004) was long-awaited and sold incredibly well. They are now going to show up on the second Live Aid concert along with many other huge artists, which will be held in London. Velvet Revolver's plans to become a rock band of great magnitude are definitely in the works, and Slash himself has earned his title as one of the greatest rock n' roll guitar players in history.


5 - Brian May (Queen)
Brian Harold May, CBE (born 19 July 1947) is an English musician and astrophysicist most widely known as the lead guitarist of the rock band Queen. As a guitarist he uses his home-built guitar, "Red Special", and has composed hits such as "Now I'm Here", "Tie Your Mother Down", "We Will Rock You", "Who Wants to Live Forever", "Hammer to Fall", "Save Me", "Fat Bottomed Girls", "I Want It All" and "Too Much Love Will Kill You". May earned a PhD in astrophysics in 2007 and is currently the Chancellor of Liverpool John Moores University.May lives in SurreyHe was made Commander of the Order of the British Empire in 2005 for "services to the music industry".


6 - Joe Satriani
Born: July 15, 1956
Along with teaching some of the top rock guitar players of the '80s and '90s, Joe Satriani is one of the most technically accomplished and widely respected guitarists to emerge in recent times. Born on July 15, 1956, in Westbury, NY, and raised in the nearby town of Carle Place, Satriani -- inspired by guitar legend Jimi Hendrix -- picked up the guitar at the age of 14 (although he was initially more interested in the drums). Quickly learning the instrument, Satriani began teaching guitar to others and found a kindred spirit in one of his students, Steve Vai. By the late '70s, however, Satriani had relocated to Berkeley, CA. With his sights set on his own musical career, "Satch" kept teaching others, including such future rock notables as Kirk Hammett (Metallica), Larry LaLonde (Primus), David Bryson (Counting Crows), and jazz fusion player Charlie Hunter.

In the early '80s, Satriani got a gig playing guitar with power popster Greg Kihn, doing some session work and touring with the group (an archival release recorded around this time, King Biscuit Flower Hour, was later issued in 1996), and issuing his own solo self-titled EP in 1984, financing and releasing the project entirely on his own. But when Vai hit the big time as the guitarist of David Lee Roth's solo band in 1986, he offered praise for his good friend and former teacher in several major guitar publications, leading to widespread interest in Satriani's playing. The timing couldn't have been more perfect for Satch, as he'd just issued his first full-length solo album, Not of This Earth, which automatically made ripples in the rock guitar community.

But the best was still to come, in the form of his sophomore release, 1987's Surfing with the Alien. Almost overnight, Satriani was widely regarded as one of rock's top guitarists, as the album earned gold certification and the guitarist would finish at the top of guitar magazine polls for years afterward. He was even handpicked by Mick Jagger to accompany the famous singer on a tour of Australia and Japan around this time. A stopgap EP, Dreaming 11, combed both studio and live tracks and was issued a year later, and in 1989, Satriani issued his third solo full-length, Flying in a Blue Dream. Another sizeable hit, the album also marked Satch's debut as a vocalist on several tracks. His career received another big push the same year when his song "One Big Rush" was included on the soundtrack to Cameron Crowe's hit movie Say Anything.

The '90s began with Satriani creating his own line of guitars for the Ibanez company (the JS Joe Satriani model), but it wasn't until 1992 that he would issue his next solo release, The Extremist. The double-disc set Time Machine followed a year later (a combination of new tracks, live material, and the long out-of-print Joe Satriani EP from 1984), and in 1994, Satch filled in on tour for the departed Ritchie Blackmore for heavy metal pioneers Deep Purple. Although he was asked to become a full-time member, Satriani turned down the offer to return to his solo career.

Satriani issued two more solo albums during the '90s -- 1995's self-titled release and 1998's Crystal Planet -- and also started the G3 guitar showcase tour with Vai in 1996, becoming an annual event and issuing a live document of the tour's initial run, G3: Live in Concert, a year later. 2000 saw Satriani issue his most musically daring release yet, the electronic-based Engines of Creation, and a year later, Live in San Francisco. Engines was nominated for a Grammy the next year, and after a successful tour he stepped back into the studio. The result, Strange Beautiful Music, was released in 2002. Electric Joe Satriani: An Anthology arrived in 2003, followed by Is There Love in Space? in 2004, Super Colossal in 2005, and Satriani Live! in 2006. In addition to his own albums, Satriani has guested on several other artists' albums over the years, including Blue Öyster Cult's Imaginos, Alice Cooper's Hey Stoopid, Stuart Hamm's Radio Free Albemuth, Pat Martino's All Sides Now, and Spinal Tap's Break Like the Wind. Greg Prato, All Music Guide


7 - Eddie Van Halen (Van Halen)
Musician. Born Edward Van Halen on January 26, 1955 in Nijmegen, The Netherlands. While growing up in Pasadena, California, Eddie and his brother, Alex, took classical piano lessons. As teenagers, Eddie switched to guitar and Alex to drums, and they started a band called Mammoth. In 1974, they hooked up with vocalist David Lee Roth and bassist Michael Anthony to form Van Halen. Within a few years, the band had become hugely popular in the Los Angeles rock scene.The band got a break in 1977 when Kiss bassist Gene Simmons discovered them at a local club and financed their first recording session. Soon after, Van Halen signed with Warner Bros. In 1978, Van Halen put out its self-titled debut album, which featured the hit single "Runnin' With the Devil." The combination of Eddie Van Halen's electric guitar riffs and Roth's tongue-in-cheek antics launched the album to platinum status within six months of its release.During the next few years, Van Halen became one of the hardest working and most profitable bands in the recording industry, releasing a string of multi-platinum albums in quick succession; 1979's Van Halen II, 1980's Women and Children First, 1981's Fair Warning and 1982's Diver Down. But true superstar status did not come until the release of1984, which showcased the now classic mega-hits "Jump," "Panama" and "Hot For Teacher."During this time, tension began to grow between Roth and the other band members. And in 1985, after recording his own successful solo album, Roth left the band to be replaced by former Montrose frontman Sammy Hagar. Showing a remarkable resiliency, Van Halen continued to put out several successful albums with Hagar as frontman, including 1986's 5150 and 1991's For Unlawful Carnal Knowledge. In 1993, the band released its first double-live album, Van Halen Live: Right Here, Right Now.By the mid-1990s, tension resurfaced, this time between the clean-and-sober Eddie and the unrepentant wild man Hagar. Hagar put out his last Van Halen record, Balance, in 1995. Shortly after Hagar's departure, Roth returned for a much-publicized Van Halen reunion. But after recording two songs for a greatest hits album and making an appearance with the band at the MTV Music Awards, Roth left again. This time, he was replaced by Gary Cherone, formerly of the heavy metal band Extreme. Cherone's debut with the band, Van Halen III, was released in 1998, but after slow sales he made his departure.Eddie Van Halen married actress Valerie Bertinelli in 1981, and their son, Wolfgang, was born in 1990. The couple announced their separation in July 2002.

8 - David Gilmour (Pink Floyd)
David Jon Gilmour, CBE was born on 6th March 1946 in Cambridge, England, the second child of Douglas Gilmour, a senior lecturer in Zoology at the University, and Sylvia, a teacher. Best known as guitarist, vocalist and writer with Pink Floyd, he is also renowned for his solo work and collaborations with other artists including Kate Bush, Paul McCartney,
and Pete Townshend.

David Gilmour and Roger 'Syd' Barrett met as children in Cambridge and later, whilst studying at the Cambridgeshire College of Arts and Technology, began playing guitar together. In 1965 they spent a summer hitchhiking and busking around the South of France before Syd joined Roger Waters, Nick Mason and Rick Wright to form Pink Floyd, and David continued playing with his own band Jokers Wild, subsequently touring Europe with Flowers, and later Bullitt.

David was asked to augment the Pink Floyd line up as the singer and guitarist in 1967, only for Syd to leave the group five gigs later.

David's guitar playing and song writing became major factors of Pink Floyd's worldwide success during the 1970s, including his distinctive vocals and guitar playing on The Dark Side Of The Moon, the third most successful album of all time.

As a side project, David released his first solo album David Gilmour in 1978. Featuring Rick Wills on bass and Willie Wilson on drums & percussion, the album charted in the UK and the US.

David's second solo album About Face was released in 1984, again hitting the Top 20 in the UK.

David assumed control of Pink Floyd in 1985, after Roger Waters' departure, creating the new Floyd album A Momentary Lapse of Reason with Nick Mason and Rick Wright. It was followed in 1994 by The Division Bell, which contained the instrumental Marooned, composed by David and Richard Wright, for which Pink Floyd won their sole Grammy Award. Both albums charted at number one on both sides of the Atlantic and were supported by sell-out world tours. A live album and video, P.U.L.S.E, followed in 1995. In 1996, Pink Floyd were inducted into the US Rock & Roll Hall of Fame, followed by the same honour in the UK in November 2005; in 2005, David Gilmour was made a CBE for services to music.

In 2002, following a concert for Robert Wyatt's Meltdown Festival, three semi acoustic concerts were performed by David Gilmour and friends at London's Royal Festival Hall, with one critic remarking that a 'reinvented rock god shines on as 21st century folk hero'.

In 2003, David donated the £3.6 million proceeds of the sale of his London house to Crisis, the charity for the homeless of which he is a vice-president.

Acclaim for David Gilmour as a guitarist came with his headline billing at the 2004 London Wembley concert celebrating 50 years of the Fender Stratocaster guitar. He was also voted 'Best Fender Guitar Player Ever' in a poll in Guitarist magazine, beating such greats as Jimi Hendrix and Eric Clapton.

In July 2005, Pink Floyd reunited with Roger Waters for a one-off performance at Live 8 in London's Hyde Park, which was regarded by many as the highlight of an astonishing show.

On 6th March 2006, David released his third solo album, On An Island, which entered the UK Charts at Number One, subsequently hitting the top position in the pan-European Charts, as well as hitting multi-Platinum around the world, including countries as diverse as Canada and Poland.

On An Island was accompanied by tour dates in the US and Europe, performed by a stellar list of musicians including Pink Floyd's Richard Wright, Roxy Music's Phil Manzanera, and regular Floyd musicians Dick Parry, Guy Pratt, and Jon Carin.

Summer concerts in Europe included a one-off performance in front of 50,000 in Gdańsk's historic dockyards, as a celebration of the 26th Anniversary of the Soldarity movement, which was founded there. For one time only, the performance featured a 40-piece orchestra conducted by noted Polish composer Zbigniew Preisner, who had written the orchestrations for the On An Island album. The concert was also filmed by director Gavin Elder.

The live show at London's Royal Albert Hall was filmed in High Definition by award-winning director David Mallet for DVD release. Entitled Remember That Night – Live At The Royal Albert Hall, it was released in Europe on Monday 17th September 2007 and the following day in North America, immediately hitting the No. 1 spot in many countries around the globe.

Remember That Night was released in the high-definition Blu-ray format in November 2007.

In May 2008, David was awarded an 'Ivor' for Lifetime Achievement by the British Association of Composers and Songwriters.

In September 2008, Fender Guitars made available their David Gilmour Signature Black Strat model, in two versions. The 'Relic' model Fender Stratocaster™ replicates the wear on David's own 30-year old, much-customised guitar, while the 'New Old Stock' model includes all the same custom parts but without the wear.

September also saw the release of Live In Gdańsk, David's live album from the outdoor show with orchestra in the Gdańsk shipyards. Available as a 2-CD audio package, other formats include a DVD of nearly two hours of concert footage plus a documentary of the Gdańsk experience.


9 - Kirk Hammett (Metallica)
Born on November 18, 1962 to a Fillipino mother and merchant seaman father. Learned guitar at age 15. Joined Metallica to replace Dave Mustaine in 1982. Has won several Grammys with Metallica and participated in their class action law suit against Napster.


10 - Steve Vai
Born: June 06, 1960
Along with his one-time teacher Joe Satriani, six-string wizard Steve Vai set the standard for rock guitar virtuosity in the '80s. Born on June 6, 1960, and raised in Carle Place, NY, Vai became interested in the guitar via such legendary artists as Jimi Hendrix, Led Zeppelin, and Alice Cooper as a teenager and, upon starting high school, took lessons with an older player from his high school, Joe Satriani. Playing in several local bands, Vai quickly picked up on the instrument, and by the age of 18 was attending the renowned Berklee School of Music in Boston. As a student there, Vai transcribed several of Frank Zappa's most technically demanding compositions for guitar, and even sent a copy of one such transcription, "Black Page," to Zappa himself. Zappa was so impressed with the young guitarist that upon meeting him, he invited Vai to join his band.

Subsequently, Vai toured the world with Zappa (giving Vai the nicknames "Stunt Guitarist" and "Little Italian Virtuoso") and played on such albums as 1981's Tinsel Town Rebellion and You Are What You Is, 1982's Ship Arriving Too Late, 1983's Man from Utopia, plus 1984's Them or Us and Thing Fish, before leaving to set out on his own. First off was a pair of self-financed, recorded, and released solo albums in 1984, Flex-Able and Flex-Able Leftovers, both of which showcased Vai's guitar playing and songwriting talents, yet were still heavily influenced byZappa.

With Van Halen all the rage by the mid-'80s due to their massive hard rock/pop crossover success, Vai replaced Yngwie Malmsteen in a similarly styled outfit called Alcatrazz (which featured former Rainbow vocalist Graham Bonnett), playing on their overlooked 1985 release Disturbing the Peace. The same year, Vai made a cameo appearance in the movie Crossroads (playing the devil's guitarist and shredding away in a guitar duel with Ralph Macchio) and got an invite from his friend/bass master Billy Sheehan to try out for the guitar spot in singer David Lee Roth's solo band (Roth had just split from Van Halen), and eventually landed the gig. 1986 saw the debut release from Roth and his stellar solo band, Eat 'Em and Smile, which went on to become one of the year's top hard rock releases. Both Vai and Sheehan were catapulted to superstardom due to their instrumental talents, as they took top honors in numerous guitar magazines for years afterward.

But although the quartet showed great promise, Sheehan jumped ship just after their sophomore album, Skyscraper, was issued in 1988. Although the album was more pop-based than its predecessor, it became another sizeable hit -- with Vai earning a co-producing credit on the album along with Roth. The same year, Vai issued his own line of snazzy guitars, the Jem 777 series, via the Ibanez company. After the ensuing tour with Roth wrapped up in late 1988, it was Vai's turn to jump ship. In addition to working on another solo album, he was invited to join up with chart-topping pop-metallists Whitesnake, an offer he accepted. His one and only album with Whitesnake, Slip of the Tongue, was issued in 1989, as was his third solo album overall, Passion and Warfare, a year later. The album was based on dreams that Vai experienced as a teenager, as the largely instrumental album became a sizeable hit, earning gold certification and solidifying Vai's standing as one of the top guitarists of the day. It was also around this time that Vai created a seven-string guitar through Ibanez. Although the instrument didn't catch on initially, it would by the mid- to late '90s, when the guitarists in such metal acts as Korn and Limp Bizkit would utilize the instrument to achieve super-low tunings.

After an extended hiatus, Vai formed his first conventional rock band (called...VAI) along with newcomer Devin Townsend on vocals, T.M. Stevens on bass, and Terry Bozzio on drums -- offering their one and only album in 1993, Sex & Religion. When the album proved to be a disappointment both critically and commercially, Vai returned back to all-instrumental work with the 1995 EP Alien Love Secrets. For the remainder of the decade, Vai continued to issue solo releases, including 1996's Fire Garden, 1998's Flex-Able Leftovers (a re-release of his long out of print second solo album, with added tracks), and 1999's The Ultra Zone. It was also during the late '90s that Vai and Satriani reunited for an annual co-headlining tour (with a different third artist added each year), called G3, unleashing a live album, G3: Live in Concert, in 1997.

The early 21st century saw a flurry of releases from Vai, including a compilation of instrumentals, The 7th Song: Enchanting Guitar Melodies Archive, in 2000, and his first full-length live release, Alive in an Ultra World, in 2001, as well as his mammoth career-encompassing ten-disc box set The Secret Jewel Box. In 2002, he collected several pieces that he had contributed to films through the years, including the guitar duel from Crossroads and the theme to Bill and Ted's Bogus Journey and put them together in a 40-track collection called The Elusive Light and Sound, Vol. 1. A series of compilations came next and after a five-year hiatus from the studio, Vai returned in 2005 with Real Illusions: Reflections. A tour with the Metropole Orchestra followed and he released a ambitious double live set documenting his performances, titled Sound Theories, Vols. 1-2, in 2007.

Over the years, Vai guested on countless albums by other artists, including Gregg Bissonette's self-titled debut and Submarine, Alice Cooper's Hey Stoopid, Randy Coven's Funk Me Tender, Al di Meola's Infinite Desire, Public Image Ltd.'s Album, Joe Jackson's Symphony 1, and Billy Sheehan's Compression. He can also be found on such additional Zappa releases as Jazz from Hell, Shut Up 'N Play Yer Guitar, Guitar, and on several volumes of the ongoing You Can't Do That on Stage Anymore series and the live tribute disc, Zappa's Universe. As if his busy schedule weren't full enough, Vai pursued a lifelong interest when he began harvesting honey among five bee colonies in the backyard of his home. Greg Prato, All Music Guide


11 - Carlos Santana
Born July 20, 1947, in Autlán de Navarro, Mexico. His father, Jose, was an accomplished professional violinist, and Carlos learned to play the guitar at age 8. In 1955, the family moved from Autlán de Navarro to Tijuana, the border city between Mexico and California. As a teenager, Santana began performing in Tijuana strip clubs, inspired by the American rock & roll and blues music of artists like B. B. King, Ray Charles, and Little Richard. In the early 1960s, Santana moved again with his family, this time to San Francisco, where his father hoped to find work.In San Francisco, the young guitarist got the chance to see his idols, most notably King, perform live. He was also introduced to a variety of new musical influences, including jazz and international folk music, and witnessed the growing hippie movement centered in San Francisco in the 1960s. After several years spent working as a dishwasher in a diner and playing for spare change on the streets, Santana decided to become a full-time musician; in 1966, he formed the Santana Blues Band, with fellow street musicians David Brown and Gregg Rolie (bassist and keyboard player, respectively).With their highly original blend of Latin-infused rock, jazz, blues, salsa, and African rhythms, the band (which quickly became known simply as Santana) gained an immediate following on the San Francisco club scene. The band's early success, capped off by a memorable performance at Woodstock in 1969, led to a recording contract with Columbia Records, then run by Clive Davis. Their first album, Santana (1969), spurred by a Top 10 single, "Evil Ways," went triple platinum, selling over four million copies and remaining on the Billboard chart for over two years. Abraxas, released in 1970, went platinum, scoring two more hit singles, "Oye Como Va" and "Black Magic Woman." The band's next two albums, Santana III (1971) and Caravanserai (1972), were also critical and popular successes.As the band's personnel changed frequently, Santana (the band) came to be associated almost exclusively with Santana himself who soon became the only remaining member of the original trio and his psychedelic guitar riffs. In addition to his work with his band, Santana recorded and performed with a number of other musicians, notably drummer Buddy Miles, pianist Herbie Hancock, and guitarist John McLaughlin. Along with McLaughlin, Santana became a devoted follower of the spiritual guru Sri Chimnoy during the early 1970s. Disillusioned with the heady, drug-addled world of 1970s rock music, Santana turned to Chimnoy's teachings of meditation and to a new kind of spiritually-oriented music, marked by a popular jazz album he recorded with McLaughlin, Love, Devotion, Surrender, in 1973.Throughout the 1970s and early 1980s, Santana and his band released a string of successful albums in their unique style. Notable albums of this time period included Amigos (1976) and Zebop (1981). During the 1980s, he continued to tour and record both solo and with the band, but his popularity began to decrease with the commercial audience's dwindling interest in the jazz/rock blend. Nevertheless, Santana earned critical acclaim throughout the decade, winning his first Grammy Award, for Best Instrumental Performance, for the 1987 solo album Blues for Salvador. He toured extensively, playing in sold-out auditoriums and on tours like LiveAid (1985) and Amnesty International (1986).


12 - James Hetfield (Metallica)
Born: August 03, 1963
In the early '80s, heavy metal was in danger of becoming a spandex-sporting/hairspray-soaked/makeup-smeared parody, but bands like Metallica brought metal back to its original, straight-ahead approach. With most other metal singers posing for the camera and singing about sex, drugs, and rock & roll, Metallica singer/guitarist James Hetfield's approach was a much-welcomed break from the norm with his tattered jeans and unkempt hair, while singing (well, shouting) about serious subject matter and bashing out intense metal riffs on either his Gibson Explorer or Flying V.

James Alan Hetfield was born in Downey, CA (a suburb of Los Angeles) on August 3, 1963, to Christian Science parents, a religion he would dismiss later on. Feeling isolated from his high school classmates (and in the wake of his mother's death when he was a teenager), Hetfield turned to playing guitar and the sounds of '70s heavy metal: Black Sabbath, Thin Lizzy, Aerosmith, AC/DC, UFO, and Blue Oyster Cult. His enlistment in a few garage bands followed (two being Obsession and Leather Charm), yet didn't lead to much. But he would soon find a kindred musical spirit from an ad in the local music paper placed by a L.A.-by-way-of-Denmark drummer/metal fan, Lars Ulrich. Ulrich turned Hetfield on to the sounds of the New Wave of British Heavy Metal movement (Judas Priest, Iron Maiden, Motorhead, Diamond Head, Venom, Saxon, Angel Witch, etc.) and the two set out to form a similarly styled group together that would be a reaction against all the glam metal bands that were infiltrating Los Angeles. The result would be one of the most popular rock bands of all-time, Metallica.

After relocating to San Francisco in early 1983, the band (which included bassist Cliff Burton and guitarist Dave Mustaine) created quite a buzz in the metal underground, leading to a subsequent record deal. Mustaine was replaced by Kirk Hammett in time for the quartet's debut, Kill 'Em All, as Hetfield created his own identifiable heavy and precise rhythm guitar style (using almost all downstrokes with his picking hand and muting the sixth string), a style that's been infinitely copied subsequently by other metal/thrash bands. More classic albums followed (Ride the Lightning, Master of Puppets) before Metallica endured their greatest tragedy -- the death of Burton in late 1986. Undeterred, Hetfield and his bandmates soldiered on with Jason Newsted taking Burton's place. The band's greatest commercial success occurred with this lineup: 1988's And Justice for All and 1991's self-titled release, during which Hetfield recreated his public image from a skateboarder to a Ted Nugent-esque man's man. It also must be said that Hetfield is probably one of the most accident-prone rock musicians -- he's been sidelined several times during tours (with a roadie stepping in to handle his guitar parts) from broken bones due to skateboarding accidents in the '80s and from 2nd degree burns he suffered from an on-stage pyro accident in 1992.

In addition to his Metallica duties, Hetfield has also found time to guest on friend's albums, some credited (Primus' 1999 all-star affair Antipop), and some not (ex-Faith No More guitarist Jim Martin's solo debut Milk and Blood and Corrosion of Conformity's Wiseblood). Hetfield and Metallica continue to crank out best-selling albums and sold-out tours, although it appeared as though the group may be entering an uncertain phase of their career in early 2001, when a tell-all band interview in Playboy Magazine (which saw Hetfield recall his troubled early family life and new role as a husband/father, as well as criticizing his bandmates) was quickly followed-up by Newsted's exit from Metallica. Greg Prato, All Music Guide


13 - Tom Morello (Rage Against The Machine)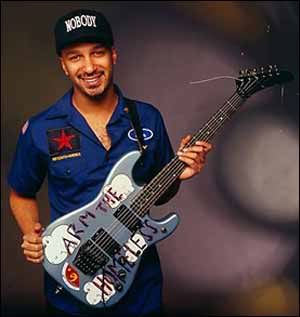 Tom Morello was born on May 30, 1964 in New York city. He has become an influential guitarist due to his work with Rage Against The Machine in the 1990s. Tom got his Social Studies degree from Harvard and went to L.A to start a band. He briefly played guitarist for a band named Lock Up with fellow Rage member Zack De La Rocha.


14 - Kurt Cobain (Nirvana)
Kurt Donald Cobain was the leader of Nirvana, the multi-platinum grunge band that redefined the sound of the nineties.

Cobain was born on the 20th of February 1967 in Hoquaim, a small town 140 kilometres south-west of Seattle. His mother was a cocktail waitress and his father was an auto mechanic. Cobain soon moved to nearby Aberdeen, a depressed and dying logging town.

Cobain was for most his childhood a sickly bronchitic child. Matters were made worse when Cobain's parent's divorced when he was seven and by his own account Cobain said he never felt loved or secure again. He became increasingly difficult, anti-social and withdrawn after his parent's divorce. Cobain also said that his parent's traumatic split fueled a lot of the anguish in Nirvana's music.


15 - Mark Knopfler (Dire Straits)
Mark Knopfler was born in Glasgow, Scotland, on the 12th of August 1949. He was around seven years old when the Knopfler family moved to Newcastle-Upon-Tyne in the North-East of England. Mark attended Gosforth Grammar School. As a young boy Mark was inspired by his uncle Kingsley's harmonica and boogie-woogie piano playing. Later, in his teens, he set his heart on an all too expensive flamingo-pink Fender Strat, just like Hank Marvin's, but in the end he had to settle for a £50 twin pick-up Hofner Super Solid and £50 was a lot of money in those days. Like lots of other guitar-toting schoolboys of the 1960s, he served an early apprenticeship by forming and joining anonymous schoolboy bands and listening to guitarists such as Scotty Moore, Jimi Hendrix, Django Reinhardt and James Burton. At sixteen he made a local TV appearance as half of a harmony duo along with school-friend Sue Hercombe.

At school Mark had demonstrated a flair for English and in 1967 he went to study journalism for a year at Harlow Technical College. At the end of the course he secured a job in Leeds as a junior reporter on the Yorkshire Evening Post. After two years he decided to further his studies and commenced a degree in English at Leeds University. It was whilst Mark was living in Leeds that he met a local blues singer/guitarist by the name of Steve Phillips.

Mark wrote newspaper articles and reviews on the music scene in and around Leeds. By an odd coincidence, Mark's boss was another man by the name of Stephen Phillips. This has caused some confusion over the years and a number of Steve Phillips biographies have claimed erroneously that Steve himself worked as a journalist. Mark and his boss - the other 'Steve Phillips' - went to see Steve playing in Leeds. Steve fondly recalls how Mark's first words were "Steve Phillips, meet Steve Phillips."

Steve and Mark found that musically they had much in common and they went on to form a duo called The Duolian String Pickers. By day Mark continued working as a reporter and, later, as a full-time student, while Steve took a job restoring paintings and furniture at Leeds City Art Gallery and Temple Newsam House. They played together on and off over the next five years. Some of their work is featured on Steve's 1996 Just Pickin' album. "He was a good guitar player", Steve says wryly of the young Knopfler, "in a B.B.King sort of way." Steve was to have a profound affect on Mark's guitar playing introducing him to the intricate lead technique of black blues guitarist Lonnie Johnson and the subtle skills of country blues guitar, the elements of which Mark was eventually to weave into his own unique style of guitar picking.

This was, in fact, a very important stage in Mark's development as a guitarist. He was later to tell Jack Sonni that it was not until he began to finger-pick that he found his guitar 'voice'. While living in Leeds Mark made his first record. It was recorded in a room that had been converted into studio in a house in Pudsey. The song was called Summer's Coming My Way and it featured Steve Phillips on twelve-string guitar.

On graduating from Leeds University in 1973 Mark decided to go to London and try to break into the rock scene. He scanned through the music press and finally answered the biggest advert he could find in Melody Maker. That led him to an audition and a two month stint with a blues band called Brewer's Droop. Mark played guitar on three songs they recorded at Dave Edmunds' Rockpile Studios in Wales. The band's drummer was a guy called Pick Withers. Pick had turned professional at the age of seventeen and was a very experienced drummer.

Having left Brewer's Droop Mark took up a job as a lecturer at Loughton College in Essex where he remained for two years living in a rented flat in Buckhurst Hill, sometimes giving guitar lessons at Staples Road School. Then brother David came to stay for a few weeks en route to London. The Knopfler brothers would often sit up late into the night playing songs and, without knowing it, to some extent laying the foundations of what was to become, in time, Dire Straits. It was the mid-1970s, David moved on to London and Mark went on to form a working band with friends at Loughton College. They called themselves the Café Racers.

David came to share a flat at Farrer House on Deptford's Crossfield Estate, South-East London, with a Leicester-born bass player by the name of John Illsley. John recalls first meeting Mark. "I'd been out all night and came in about ten in the morning. I walked into the kitchen, started making myself a cup of tea, walked into the lounge and there was this guy lying on the floor with his head propped up against a chair. He was fast asleep, fully clothed in denim with leather boots. He had a guitar slouched over his waist." David had often spoken to John of his guitar-playing brother and John guessed correctly that the guy sprawled out on the lounge floor was indeed Mark.

It wasn't long before John found himself on stage with Mark. One night the Café Racers' bass player was ill and John was asked to stand-in. Mark and John immediately struck up a great working relationship and both realised that, despite having built-up a good reputation on the local pub scene, the Café Racers had a limited future. In April 1977 Mark gave up his flat in Buckhurst Hill and moved in with David and John.

John quickly realised that not only was Mark a talented and excitingly different guitar player, he was also a gifted song-writer. During the summer of 1977 the three musicians found themselves playing and rehearsing Mark's songs. Yet, something was missing - a drummer. Mark, recalling his brief stint with Brewer's Droop, said he knew of a drummer who would be ideal for the sort of music they were developing. Mark had been very impresssed with Pick Withers back in 1973 and so Pick was invited to the Farrer House flat and the four musicians began doing gigs together under the name of Mark's old band, the Café Racers.

John recalled that "playing with Pick Withers was fantastic...I'd never played with anybody as good as him." Later, a friend of Pick's suggested a new name for the band - Dire Straits. The die was cast. The band's first gig took place on the open space at the back of the Farrer House flats, the electricty provided by a power cable running from the stage into a socket on the wall of John's first floor flat.

Punishing rehearsals and live gigs followed. There was just enough room in the back of John's estate car for the band's equipment and they earned just enough money to pay for PA hire and a round of beers. On the 27th of July 1977 Dire Straits recorded the now famous demo tapes of five songs - Wild West End, Sultans of Swing, Down To The Waterline, Sacred Loving and Water of Love. In what was probably October they recorded Southbound Again, In The Gallery and Six Blade Knife for BBC Radio London and, finally, on the 9th of November demo tapes were made of Setting Me Up, Eastbound Train and Real Girl.

Many of these songs reflected Mark's experiences in Newcastle, Leeds and London, and were to be featured on the first Dire Straits album the following year: Down To The Waterline recalled images of life in Newcastle; In The Gallery is a tribute to a Leeds sculptor/artist named Harry Phillips, father of Steve; and, Lions, Wild West End and Eastbound Train were all drawn from Mark's early days in the capital.

The demo tapes were given to BBC Radio London DJ Charlie Gillett. Charlie played the tapes calling upon record company executives to sign this new band: enter John Stainze and Ed Bicknell. It is said that Phonogram A&R man Stainze was in the shower listening to the radio when he first heard Dire Straits. A few weeks later he signed the band to Phonogram's Vertigo label and Mark secured a publishing deal with Rondor Music. Towards the end of 1977 Ed Bicknell was working at the NEMS agency when he got a call from Stainze asking him to fix up some gigs for Dire Straits. Ed was invited round to Phonogram's offices in December where he heard the Charlie Gillett demo tapes. He was then taken to Dingwalls Club in North London to meet Dire Straits. The date was the 13th of December, 1977, and as he walked into the club they were playing Down To The Waterline. Ed recalls, "The first thing I noticed was that it wasn't necessary to stand at the back of the room; they were very quiet.

I'd just done The Ramones, who were deafening......The second thing I noticed was that Mark was playing a red Stratocaster, which immediately made me think of Hank Marvin, who I had idolised in the sixties." After hearing two or three numbers Ed decided that he wanted to manage the band. He was organising a tour for Talking Heads and was able to put his new band on the bill as the support act. Dire Straits were paid £50 per night for the Talking Heads tour; a ten-fold increase from their fee at Dingwalls. The rest - as is often said - is history.

I once asked Ed Bicknell's former assistant, Liz Whatley, when it was that she realised Dire Straits were going to be really big. She replied that it was the first time she heard Romeo and Juliet. By the mid-1980s Dire Straits had released Brothers in Arms, one of the best selling albums of all time, and had been tagged 'the biggest band in the world'. By that stage the recording and touring personnel of the band had changed more than once. David left.

Hal Lindes, guitar, and Alan Clark, keyboards, joined. Then came Tommy Mandel, keyboards, and Mel Collins, saxophone. Pick left and was replaced on drums by Terry Williams. Keyboard player Guy Fletcher became a member of Dire Straits for the Brothers In Arms album. Jack Sonni, guitar, and Chris White, saxophone, were brought in for the subsequent world tour. By the time Dire Straits commenced the 1991/92 On Every Street tour Mark, John, Alan, Guy and Chris were left from the mid-80s line-up. They were joined on stage by Phil Palmer, guitar, Paul Franklin, pedal-steel guitar, and percussionists Danny Cummings and Chris Whitten. Others who have been featured on Dire Straits' recordings include Roy Bittan, keyboards, and Joop De Korte, drums.

The Brothers In Arms tour saw Dire Straits play 234 shows in twelve months to combined audiences of about 2.5 million. Within a couple of weeks of the tour finishing Mark was producing Tina Turner but, at the same time, felt he needed to get back to his roots. Long-time mates Steve Phillips and Brendan Croker had teamed-up to form a duo shortly after Mark had left Leeds in 1973. In 1986 Steve was in London and called in to see Mark who said he fancied coming up to Leeds and sitting in with Steve and Brendan on one of their gigs. This resulted in the three of them playing together at The Grove pub in Hunslet, Leeds, on the 31st of May, 1986. The following year Mark offered to produce Steve's next album but Steve suggested that a new album should feature both himself and Brendan. Guy Fletcher was brought in to help out on the technical side. From this evolved the Notting Hillbillies.

Ed Bicknell is an accomplished drummer in his own right and during a meal in a Notting Hill wine bar, Mark sat next to him and said "OK, Ed; we've formed a band, and you're the drummer." Paul Franklin joined on pedal-steel guitar. There followed an extensive UK tour to promote the 1990 release of the multi-platinum selling album Missing......Presumed having A Good Time. Also in 1990 Mark was able to release the Neck and Neck album, a joint project with the greatly admired Chet Atkins.

Mark brought Dire Straits back together for the 1988 Nelson Mandela 70th Birthday Concert which featured Eric Clapton who was standing-in for Jack Sonni as Jack had just become the father of twin girls. Mark, John, Alan and Guy appeared on stage at Knebworth in June 1990 along with, among others, Eric Clapton, Elton John, Ray Cooper and Phil Palmer, to help raise funds for the Nordoff Robbins charity. Then came the On Every Street album. The resulting extensive world tour, which played to more than four million people, was punishing and exhausting. After it was over Mark felt that he needed to take a break from the pressures of live performance and studio schedules.

In 1996 Mark began his career as a solo performer with the release of the Golden Heart album. The album was simply a step forward in the evolution of his music, "It's just moving forwards...", he said, "...Just trying to be better." In addition, he has scored the music to a number of films. First came Local Hero in 1983 followed in 1984 by the Cal and the Comfort and Joy soundtracks. These were followed in 1987 by The Princess Bride and two years later came Last Exit To Brooklyn. Further soundtrack work has seen the release of Metroland and Wag The Dog both of 1998. Mark's second solo album, Sailing To Philadelphia, was released in September 2000. His soundtrack album to the film A Shot At Glory is due for release in the not too distant future. To date, Mark Knopfler/Dire Straits have sold millions of singles and over 105 million albums.

Over the years Mark has collaborated with many artists. He has at one time or other worked with people such as Bob Dylan, Van Morrison, Randy Newman, Buddy Guy, Tina Turner, Phil Lynott, Willy DeVille, Eric Clapton, Waylon Jennings, Chet Atkins, Phil Everly, Vince Gill, Paul Franklin, Kate and Anna McGarrigle, Paul Brady, The Chieftains, Ben. E. King, Mary Chapin-Carpenter, Joan Armatrading, Scott Walker, Jeff Healey, The Judds, Jimmy Nail, Bryan Ferry, Aztec Camera, Steely Dan, Sting, Sonny Landreth, James Taylor, Emmylou Harris, Gillian Welch and David Rawlings.

He has also devoted a great deal of time to charity work for institutions large and small. Dire Straits did a total of three concerts for the Prince's Trust in front of Prince Charles and Diana, Princess of Wales. They appeared at the 1985 Live Aid Concert and the 1988 Nelson Mandela 70th Birthday Concert. In 1995 Mark was featured on the chart-topping Dunblane single Knockin' On Heaven's Door and in September 1997 was one of the artists who performed for Sir George Martin's Music For Montserrat Concert at the Royal Albert Hall. The Notting Hillbillies, too, have performed many charity concerts helping to raise money for a range of deserving causes. Mark has been the recipient of countless awards and accolades, not least among which was the conferring in May 1993 of an Honorary Music Degree by Newcastle University of which he is justly proud.

Mark Knopfler has always been a songster, to him the song is king. It is said that he has never really understood why his music is so popular. In this he is not alone. When reviewing the Sultans of Swing compilation album in November 1998, the writers of Mojo magazine commented "overwhelming sales testify to Mark Knopfler's song-writing ability and guitar expertise, and there is certainly something intimate and friendly in that smokey voice and fluid guitar, though the scale of Dire Straits' success remains mildly baffling." Some have tried to answer this by arguing that Mark's music has an instant appeal. Perhaps a better explanation comes in Robert Sandall's liner essay for the Sultans of Swing compilation.

Sandall noted, "As the fires of punk raged around them, they made no secret of their love for styles of music which the cultural commissars of the day had recently declared irrelevant....What part could this lot possibly play in the brave new world of anarchy, media manipulation and anti-musicianship? Apart from their consummate skill as performers, it was their complete disregard for all the fashionable nonsenses of the moment that rescued Dire Straits from the fate which swiftly overtook most of their punky contemporaries. While others lived and died in a blaze of publicity and disappointing record sales, they took the world by stealth....Dire Straits were, above all, superb communicators.... The heartfelt simplicity of their music - chiefly derived from Mark Knopfler's gruff vocals and elegantly burnished Fender guitar tone - came across in songs that sounded both fresh and timeless, and which also possessed a breathtaking accuracy."

There is another side to Mark Knopfler, a very private side. By the mid-80s Mark was being referred to by some as the "quiet man of rock and roll." He is shy by nature and gets embarrassed when fans tell him how much they have been affected by his songs and how his music has changed their lives. It is a matter of public record that Mark has been married three times. His second marriage produced his twin sons, Benji and Joseph, born in 1987, and more recently his third marriage to Kitty Aldridge has been blessed with a daughter, Isabella, born in 1998. After more than twenty years at the top of his profession, Mark Knopfler is now a family man who loves to spend time with his wife and his children.

16 - Zakk Wylde (Black Label Society / Ozzy Osbourne)
Zakk Wylde was born Jeffery Philip Wielandt to a Mr. and Mrs. Jerome Wielandt on January 14, 1967 in Bayonne and raised in Jackson, New Jersey. He also has a sister, Amy. Zakk was given the nickname "Flip," short for his middle name Phillip, by his dad. This is what friends and family called him. Zakk began guitar at the age of eight, only to quit a short time after due to lack of interest. Zakk then attended Jackson Memorial High School were he then picked up the guitar again at age 14. He began taking lessons from his high school football coach's son, LeRoy Wright. And later studied classical guitar with a guy from Freehold, NJ, and later with a guy in Manhattan. Zakk formed his first band " Stone Henge" playing songs at parties like Ozzy's "Bark at the Moon" and other songs by Black Sabbath and Rush. It was at that time when Zakk started dating a classmate named Barbaranne Caterina, who would later become his wife.

After graduating from Jackson Memorial High School in 1985 at the age of 18, Zakk was working at a local supermarket and doing roofing, and playing in various bands. That's when Zakk began to write originals and joined a band called "Zyris" replacing guitarist Dave Linsk who left to form his own band and is currently playing for Overkill. Upon joining Zyris is when he started calling himself Zakari Wyland. He got the name from the TV show Lost In Space's character Dr. Zachary Smith. Zyris played original material as well as covers by their favorite bands, like: Black Sabbath & Led Zeppelin. It was at that time Zakk gave guitar lessons in Jackson, New Jersey. Zyris played some, but not many gigs in the southern Jersey area. Many believed they toured up and down the whole eastern coast of Jersey, but that is not true, though they did get a special gig at the infamous "Stone Pony" made popular by Bruce Springsteen, and Bon Jovi.

Hearing on the Howard Stern Show that Ozzy would be auditioning unknown guitarists, Zakk never thought it to be more than a fantasy. At one Zyris show Zakk was discovered playing by rock photographers Mark Weiss and Dave Feld. Amazed at Zakk's playing, Dave confronted Zakk, and mentioned that Ozzy was looking for a new guitarist and that they would pass along a press kit. Zakk got the audition with Ozzy. He took the audition figuring, "Well I'm only working at a gas station, what do I got to lose?!" During the audition Zakk played a few Ozzy songs and some acoustic and classical stuff. After the audition he returned home thinking he didn't get the job. One day he received a phone call from Sharon Osbourne asking if he would join the band.

Zakk had joined up with Ozzy at the age of 20, in May of 1987. It was then he was given the last name "Wylde", which he was called for obvious reasons. Ozzy introduced Zakk as his new guitarist at the Hard Rock Café in New York City, on Dec.15, 1987. Zakk Wylde made his debut with Ozzy Osbourne on album in 1988 with "No Rest For The Wicked." Zakk quickly became a big name in the guitarist community, due to his instantly recognizable guitar sound and style.

In 1989, Zakk got to tour the world playing guitar for Ozzy. He basically went from an unknown kid playing small clubs in New Jersey, to playing huge arenas. Ozzy and his band were booked to play the Moscow Peace Festival during the summer of 1989, along with Skid Row, Motley Crue, Bon Jovi, and the Scorpions, among many other bands. The live E.P. "Just Say Ozzy" was released in 1989. It featured Ozzy, Zakk, Geezer Butler, and Randy Castillo playing three No Rest For The Wicked tunes, a version of the Jake E. Lee penned song "Shot In The Dark" from The Ultimate Sin, which is universally recognized as way better than the studio version, and two Black Sabbath classics, "War Pigs," and "Sweet Leaf."

In 1990, Ozzy, Zakk, Randy, and Bob Daisley & Mike Inez recorded No More Tears, the second studio release in which Zakk appears on. No More Tears is generally regarded as one of Zakk's best performances. From the mega-hit title track with the amazingly breathtaking solo, to the thunderous Mr. Tinkertrain, and the mellow acoustic ballad Mama, I'm Coming Home, the album was perfectly balanced. Zakk's style changed a lot from No Rest For The Wicked until No More Tears. There is more of a southern rock style "chickin' pickin'" element to his playing that was virtually nonexistant on most of No Rest.

The tour for No More Tears, aptly titled "No More Tours" was billed to be Ozzy's final farewell tour. He was in the best shape he had been in in years, completely sober (except for a pill-popping problem that was not known by the public at the time), eating healthy, excersizing, and boxing, etc. Ozzy's voice was in top condition, he was moving around and jumping onstage more than he ever had. The energy was there. Zakk, Mike, and Randy clicked perfectly. Many beleive this to be Ozzy's best line-up to date. The band went back into the studio during the tour to record a few new studio tracks that were to be included as bonus tracks to the live album they were going to release. The studio tracks that were recorded, "Aimee," and "See You On The Other Side," one of which containing Jeff Scott Soto (of Yngwie Malmsteen fame) on backing vocals. More tracks are beleived to be recorded back then, but no titles are available. Unfortunatly, the songs were not released on Live & Loud, and as a matter of fact, those 1992 versions of the songs have never been released. Live & Loud was a double disc set of live recordings from Ozzy's supposed final tour.

Zakk formed a band called Lynyrd Skynhead with James Lomenzo and Greg DeAngelo of White Lion fame in 1992 while he was still with Ozzy. They jammed a bunch of classic rock and southern rock tunes from bands such as Lynyrd Skynyrd, The Allman Bros, ZZ Top, and Mountain. This lineup recorded the track "Farm Fiddlin'" which appeared on the "Guitars That Rule The World Vol. 1" compilation album, which is now out of print.

On August 1st, 1993, Zakk Wylde got to fill-in for Dickey Betts in the Allman Bros. Band for a show. This show is heavily bootlegged and is an amazing show. Everytime someone mentions Zakk Wylde's numerous bands, the Allmans are always brought up, but in actuality, he only did one show with them.

Greg DeAngelo was replaced by a much better drummer, Brian Tichy in 1994, and the band name was changed to Pride & Glory. Pride & Glory released their self-titled debut (and also final) album in 1994 on Geffen Records. Zakk made an appearance on Headbangers' Ball in 1994 by himself and performed the Pride & Glory song "Machine Gun Man." Pride & Glory, a potent mix of country, southern rock, blues, and heavy metal acheived limited success, although touring with the likes of Lynyrd Skynyrd, Aerosmith, Ted Nugent, and Whitesnake. James Lomenzo left the band in November 1994 after a tour of Japan. There was only a 3 day gap before a US Fall tour began, and Zakk found a replacement for James, his long-time friend J.D. Pride & Glory played their final show on December 10th, 1994 in Los Angeles. Slash of Guns N Roses appeared at this show and jammed "Voodoo Chile" and "Red House" with the band. A live album was supposedly recorded and intended for release, but it was scrapped. But the next best thing to a live album, asoundboard recording of one of Pride & Glory's final shows which was recorded on the last Japanese tour is now heavily bootlegged as "Fadin' Away."

In 1995, Ozzy came out of retirement and recruited Zakk, Geezer Butler, and Deen Castronovo to record his next album. Ozzmosis came out in 1995, which featured the pounding leadoff single "Perry Mason." Zakk did not write every single track on the album, though. One of the tracks was written by Steve Vai ("My Little Man"), and several others by different people. The songs "Aimee" and "See You On The Other Side" we re-recorded for Ozzmosis. "Aimee" was released as a B-side track, but was recently added to the 2002 remaster of the album. During the recording from Ozzmosis, Zakk used to go to a restaurant called Brew's in New York after a full day in the studio and jam some stuff he was writing but was unable to use on Ozzmosis, due to obvious reasons. According to Kieran Brew, Zakk would come in around 3:30 a.m. when few people remained in the restaurant, and would sing and play guitar. Brew's became the proving grounds for the material that would later become "Book of Shadows".

It was during this time that Zakk began jamming with a few of the guys from Guns N Roses. Several songs were demoed with the band, including a song with an early version of the riff for "The Rose Petalled Garden." Zakk was torn between joining Guns N Roses, and touring with Ozzy. He waited too long, and Ozzy eventually hired a guitarist by the name of Joe Holmes for the Ozzmosis tour. Zakk received a message from Guns N Roses that his services would not be needed.

Also, around this time Geffen Records was wanting a new album from Zakk. He decided to record and release all of the excess material that he had laying around, which became "Book Of Shadows" Zakk called up former Pride & Glory bassist and asked him to play on the album, and Joe Vitale, veteran drummer from Joe Walsh and Crosby, Stills & Nash was recruited to play on the album as well. "Book Of Shadows" was released in 1996 on Geffen Records. Nick Catanese, a guitarist from Pittsburg emailed Zakk enquiring on whether he needed another guitarist or not, and he actually got the job playing backing guitar for Zakk on the B.O.S. tour. Zakk started jamming an unreleased song live in 1997 called "Spoke In The Wheel. "During this tour, a drummer by the name of Phil Ondich met Zakk in California. Towards the end of the tour in Roanoke, Virginia, Phil met Zakk a second time and gave him a tape of him playing with a a band called Raging Slab. Outside of a radio station there in Roanoke, Zakk jammed a new song on acoustic called "Beneath The Tree." Phil kept time for Zakk by patting his hands on his legs loudly. A recording exists of this rare performance, but it has never seen the light of day. Zakk did a solo electric Japan tour in the Fall of 1997 with Nick on rhythm guitar, Ian Mayo on bass, and Brock Avery on drums. A pro-shot video exists of one of these performances called "Rock Around The Bay '97." Zakk also performed at the Jason Becker Benefit on November 17th, 1997.

On January 31, 1998, the original Pride & Glory band reunited for a one-off reunion show at the Whiskey in Hollywood, CA. This momentous occasion was beleived to be bootlegged, but no video has turned up anywhere.

Zakk Wylde, Mike Inez, and Randy Castillo, the No More Tears band, were rehired by Ozzy Osbourne in early 1998 for a tour in New Zealand, Australia, and Japan. Mysteriously, the entire band was let go without reason by the Ozzy camp after they got back from Japan. They were supposed to play Ozzfest '98 in the US, but this never happened. Zakk went to Italy in early May 1998 to do a one-off show by himself, and then he called up Phil Ondich (due to Nick Catanese recommending him as the drummer to use...) and what became Sonic Brew was recorded in May 1998 in Miama, FL. Zakk loved the lyrics on the song "Beneath The Tree" that he had jammed with Phil in Roanoke the previous year, so he wrote a new song and kept the lyrics for it. This haunting song was recorded during a huge thunderstorm, and it was eerie as hell. You can tell that the creepy feel of the song was most-likely inspired by the setting in the studio that night. Zakk and Phil decided to call the band "Hell's Kitchen" and the album was to be called "Sonic Brewery." Phil designed all of the artwork and layed out the booklet for the album. But, after a few weeks, it was decided that they were changing the band name to Black Label Society, because they were unable to get a trademark for the Hell's Kitchen moniker. The front and back artwork for the album had to be changed, but the inside booklet was kept almost exactly the same. If you look, all of the art inside the booklet is set up like a kitchen menu. Hilarious liner notes and artwork (a devil devouring a chef, etc) fill the booklet, and if you replace the word "society" with the word "kitchen" in a lot of the liner notes, it makes a lot more sense; such as, "its the height of bad manners to hieve in somebody else's kitchen" makes much more sense than "somebody else's society."

Sonic Brew was released in Japan on October 28th, 1998. It contained 13 tracks ("Lost My Better Half" and "No More Tears 2000" did not exist yet), an awesome album cover that was printed on clear plastic, with a seperate paper booklet. The back cover was printed with golden ink, and the packaging was, overall, a lot better than the USA version ended up. There was a long delay for the USA album release, because everyone collectively decided that it needed remixed. The drums & vocals were buried on some of the tracks towards the end of the disc, so it was decided to remix it for the US release. Zakk and Phil decided to give the USA an extra bonus track for the album, and went to the studio in California and recorded "Lost My Better Half" as a one-off bonus track for the album. It was Zakk's heaviest song to date. Sonic Brew was finally released on May 4th, 1999.

The band needed a bass player, so Zakk put out an ad in all guitar magazines: "Looking for a bassist. Preferably a guitarist who's willing to play bass. Fender P Bass preferred. Mid/Late 20's, early 30's. CRUSHINGLY HEAVY. If you don't dig Cliff Burton don't bother replying." Evidently, finding an unknown bassist didn't work out, because Zakk ended up hiring his long-time friend and former P&G replacement bassist J.D. as BLS' bass player. Black Label Society's lineup was now complete. Zakk, Nick, J.D., and Philth.

BLS performed their first ever show in Japan on May 1st, 1999 at Club Quattro, Shibuya Tokyo. On the final Japanese date of that tour, Stephen Pearcy, lead (out of key) singer of the washed-up '80's band Ratt joined BLS onstage for an encore of Black Sabbath's "Paranoid." After the Japanese tour, BLS went to Europe for a tour, playing for what was probably their largest crowd they've played before and since, Dynamo Open Air '99.

After the European tour, the American tour dates that were scheduled all got cancelled, and there was a wait before the US tour. A rumor was put out that said that Phil had broken his arm while jet-skiing; this was a completely untrue rumor. As a matter of fact, Phil doesn't even jet-ski. Around the same time, the Johnny Walker whisky company issued a cease and desist order to Zakk on the album cover, which looked just like a bottle of Johnny Walker's black label whisky. The band decided to reissue the album with a different album cover, and as an added incentive, they wanted to record a bonus track for the fans who wanted to buy the new version of the album. Zakk, Phil, and Mike Inez recorded the song "No More Tears 2000" as a bonus track. The reissue of the album could be bought at merchandise stands on the tour before it could be found in stores. A guitar pick was inside of the early pressings of the reissue as an added bonus to those who got it early. Black Label Society finally kicked off their tour of the US in mid September 1999, with the band Loudmouth opening for them for many of the dates. They played most of the songs from Sonic Brew, a few Pride & Glory songs, and at a few shows, they covered "Miracle Man" by Ozzy. The tour was wrapped up without a hitch.

In the winter of 1999/2000, Zakk and Philth headed to the studio in California to cut their sophmore effort "Stronger Than Death." Mike Piazza, catcher for the NY Mets was hanging with them in the studio, and recorded backing vocals/growls on the title track. Axl Rose was actually in the studio next to theirs and hung out with them on several occasions, but no collaboration occured. Phil did all of the artwork yet again on the album. Stronger Than Death was released in Japan on March 8th 2000, and in the United States on April 18th 2000. J.D. decided to leave the band to persue other interests, and he was replaced by Steve "S.O.B." Gibb, son of Berry Gibb from the BeeGees. Black Label Society kicked off the Penchant For Violence tour in Japan on June 14th, 2000. The band was playing new songs from Stronger Than Death, songs from Sonic Brew, and an amazing cover of Ozzy's "Demon Alcohol."

After the Japanese tour ended on June 21st, the US tour began right away and there was no break. The entire band came back from Japan sick. The first show was June 23rd, to a packed crowd at The Sun Theater in Anaheim. About 5 songs into the set, Phil collapsed from his kit due to his stomach flu and exhaustion. Craig Nunenmacher of the band Crowbar (who were touring with BLS) came back on stage and played a few Sabbath songs with BLS, and the show ended. The next 2 shows were cancelled, and then the band returned, playing what some say were their best shows to date. When BLS got to Indiana on July 6th, 2000, about 3 songs into the set, there was a brawl on stage between Zakk and Phil, and Phil was fired from the band. They did a few Sabbath songs with Craig on drums again, and he replaced Phil as BLS' drummer from that point on.
"Alcohol Fueled Brewtality Live", BLS' live album was recorded in October of 2000, and was released on January 16th, 2001. Black Label Society was added to Ozzfest 2001 that summer as the main stage opener. Superterrorizer was recorded at one of the Ozzfest shows and added to the live Ozzfest 2001 cd; the track featured an intro which later became the song "Battering Ram." Steve Gibb left the band mid-Ozzfest tour, and was replaced by former Ozzy/Alice In Chains bassist Mike Inez. Mike Inez had to fly back to California because he had obligations with another band, and the bass tech, Frey Theiler filled in on a few dates towards the end of Ozzfest.
During Ozzfest, Zakk recorded a few demos with a guy by the name of Christian Werr on drums, to show Ozzy, for possible inclusion on Ozzy's next album. Ozzy rejected these tunes, so Zakk kept them for the next BLS album. The demos that were recorded were "Bleed For Me," "Life/Birth/Blood/Doom," "Demise Of Sanity," an alternate piano version of "Bridge To Cross," and a demo with an unknown title. The latter two tracks were never released. Robert Trujillo, who played bass with Zakk in Ozzy's band, played on "Life/Birth/Blood/Doom" as well.
Zakk recorded a new album with Ozzy in the Summer/Fall of 2001, but did not write any of the tracks for it. "Down To Earth" was released on October 16th, 2001, and Ozzy and Rob Zombie toured together as the "Merry Mayhem" tour.
Somewhere around this time, either before or after the Merry Mayhem tour, Zakk and Craig went into the studio and recorded what became "1919 Eternal." The album was supposed to be called "Deathcore Warmachine Eternal" but the title was changed in light of the tragic events of September 11th. The album was released on March 5th, 2002.
Black Label Society are currently on the mainstage of Ozzfest 2002, with Robert Trujillo, also Ozzy's bassist, playing bass for them. You can also catch Zakk playing with Ozzy's band as well.

17 - Gary Moore
Born: April 04, 1952
One of rock's most underrated guitarists (both from a technical and compositional point of view), Gary Moore remains relatively unknown in the U.S., while his solo work has brought him substantial acclaim and commercial success in most other parts of the world -- especially in Europe. Born on April 4, 1952, in Belfast, Ireland, Moore became interested in guitar during the '60s, upon discovering such blues-rock masters as Eric Clapton, Jimi Hendrix, and perhaps his biggest influence of all, Fleetwood Mac's Peter Green. After relocating to Dublin later in the decade, Moore joined a local rock group called Skid Row, which featured a young singer by the name of Phil Lynott, who would soon after leave the group to double up on bass and form Thin Lizzy. Skid Row persevered, however, eventually opening a show for Moore's heroes, Peter Green and Fleetwood Mac, and making such an impression on the veteran group that Green personally requested their manager help secure Skid Row a recording contract with CBS (in addition, Green sold Moore one of his most-used guitars, a maple 1959 Gibson Les Paul Standard, which would become Moore's primary instrument).
Skid Row would go on to issue several singles and albums (including 1970's Skid and 1971's 34 Hours), and although the group mounted a few tours of Europe and the U.S., it failed to obtain breakthrough commercial success, leading to Moore's exit from the group in 1972. Moore then formed his own outfit, the Gary Moore Band (along with members drummer Pearse Kelly and bassist John Curtis), for which the guitarist also served as vocalist. But after the trio's debut album, 1973's Grinding Stone, sunk without a trace, Moore hooked up once more with ex-bandmate Lynott in Thin Lizzy. Moore's initial tenure in Lizzy proved to be short-lived, however, as his fiery playing was featured on only a handful of tracks. Moore then set his sights on studio work (appearing on Eddie Howell's 1975 release, Gramaphone Record), before joining up with a prog rock/fusion outfit, Colosseum II. But once more, Moore's tenure in his latest outfit was fleeting; he appeared on only three recordings (1976's Strange New Flesh, plus a pair in 1977, Electric Savage and War Dance), as Moore accepted an invitation by his old buddy Lynott to fill in for a Thin Lizzy U.S. tour, playing arenas opening for Queen.
Moore proved to be quite busy in 1978, as the guitarist appeared on three other artists' recordings -- Andrew Lloyd Webber's Variations, Rod Argent's Moving Home, and Gary Boyle's Electric Glide. The same year, Moore issued his second solo release (almost five years after his solo debut), Back on the Streets, which spawned a surprise Top Ten U.K. hit in May of 1979, the bluesy ballad "Parisienne Walkways," and featured vocal contributions by Lynott. Moore joined forces with his Lizzy mates once more in 1979, appearing on arguably the finest studio album of their career, Black Rose, which proved to be a huge hit in the U.K. (for a fine example of Moore's exceptional guitar skills, check out the album's epic title track). But predictably, Moore ultimately exited the group once more (this time right in the middle of a U.S. tour), as a rift had developed between Moore and Lynott. Undeterred, Moore lent some guitar work to drummer Cozy Powell's solo release, Over the Top, in addition to forming a new outfit, G Force, which would only remain together for a lone self-titled release in 1980.
During the early '80s, Moore united with former ELP guitarist/bassist/singer Greg Lake, appearing on a pair of Lake solo releases (1981's self-titled release and 1983's Manoeuvres), in addition to guesting on another Cozy Powell solo release, Octopuss. But it was also during the '80s that Moore finally got serious with his solo career -- issuing such heavy metal-based works as 1982's Corridors of Power, 1983's Victims of the Future, 1984's Dirty Fingers and the in-concert set We Want Moore!, 1985's Run for Cover, 1987's Wild Frontier, plus 1989's After the War -- establishing a large following in Europe, despite remaining virtually unknown stateside. The decade wasn't all rosy for Moore, however -- although he was able to patch up his friendship with Phil Lynott (appearing with Lizzy for several tracks on Life/Live, and teaming with Lynott for a pair of tracks in 1985, "Military Man" and "Out in the Fields," the latter a U.K. hit), years of hard living finally caught up with Lynott, leading to his passing in January of 1986. Moore would subsequently dedicate "Wild Frontier" to Lynott, and honored Thin Lizzy's former frontman on the track "Blood of Emeralds" (from After the War).
Fed up with the pressure to pen hit singles and tired of his metallic musical direction, Moore returned to his blues roots for 1990's Still Got the Blues, the most renowned and best-selling release of his career, as the album featured such special guests as Albert Collins, Albert King, and George Harrison. Moore continued in his newly rediscovered blues style on such subsequent releases as 1992's After Hours and 1993's Blues Alive, before forming the short-lived supergroup BBM along with Cream's former rhythm section -- bassist Jack Bruce and drummer Ginger Baker -- which lasted for a single album, 1994's Around the Next Dream. Up next for Moore was a tribute album for Peter Green, 1995's Blues for Greeny, which saw him put his own personal stamp on 11 tracks either penned or performed at some point by Green. Moore experimented with different musical styles on his next two solo releases, 1997's Dark Days in Paradise and 1999's A Different Beat, before embracing the blues once more on his first release of the 21st century, 2001's Back to the Blues.
Over the years, Gary Moore has been the subject of countless compilations, the best of the bunch being 1998's metal-oriented Collection and 2002's blues-based Best of the Blues, as well as Out in the Fields: The Very Best of Gary Moore, which was split 50/50 between his metal and blues excursions. Teaming with Skunk Anansie bassist Cass Lewis and Primal Fear drummer Darrin Mooney, Moore started work on much harder and alternative-influenced rock in the spring of 2002 and released the results as Scars. The powerful Live at Monsters of Rock from 2003 proudly declared "no overdubs used" while 2004's raw Power of the Blues featured nothing but the blues, as did 2006's Old New Ballads Blues on Eagle Records. Greg Prato, All Music Guide

18 - Jeff BeckGeoffrey Arnold
"Jeff" Beck (born 24 June 1944) is an English rock guitarist. He is one of the three noted guitarists, along with Eric Clapton and Jimmy Page, to have played with The Yardbirds. He was ranked 14th in Rolling Stone Magazine's list of the "100 Greatest Guitarists of All Time".MSNBC has called Beck a "guitarist's guitarist" and Rolling Stone magazine has described him as "one of the most influential lead guitarists in rock".Much of Beck's recorded output has been instrumental, with a focus on innovative sound and his releases have spanned genres ranging from blues-rock, heavy metal, jazz fusion and most recently, an additional blend of guitar-rock and electronica. Beck has earned wide critical praise; furthermore, he has received the Grammy Award for Best Rock Instrumental Performance five times. Although he has had two hit albums (in 1975 and 1976) as a solo act, Beck has not been able to establish and maintain a broad following or the sustainedcommercial success of many of his collaborators and bandmates. Beck appears on albums by Roger Waters, Stevie Wonder, Les Paul, Zucchero, Cyndi Lauper, Brian May and ZZ Top. He also made a cameo appearance in the movie Twins (1988).He was inducted into the Rock and Roll Hall of Fame on 4 April 2009. The award was presented by Jimmy Page.


19 - Stevie Ray Vaughan
Born: 3 October 1954Birthplace: Dallas, TexasDied: 27 August 1990 (Helicopter crash)Best Known As: Lead singer and guitarist for the band Double TroubleStevie Ray Vaughan learned to play the guitar as a kid, influenced by his older brother, guitarist Jimmie Vaughan. By 1972 Stevie had dropped out of school and was playing blues guitar in bands in Austin, Texas. In 1981 he named his band Double Trouble, and in 1982 caught the attention of David Bowie, who in 1982 asked him to play on the hit "Let's Dance." In 1983 Vaughan released his debut album, Texas Flood, and the following year he released Couldn't Stand the Weather, a commercial and critical success. He continued to tour and record, playing a mix of electric blues, country and rock, until his death in a 1990 helicopter crash.


20 - Angus Young (AC/DC)
Angus Young was born on March 31, 1955 in Glasgow, Scotland. At school, Angus was an unenthusiastic student. His only real academic interest was art wich allowed him some freedom of expression. He gave up school at 15 and went to work for a soft porn magazine called Ribald as a printer. But his ambitions laid elsewhere anyway, and for a year prior to leaving school Angus had been practising guitar almost constantly, jamming around with friends and playing at school dances. In the beginning, Angus messed around with brother Malcolm Young's guitars for years before his mother finally bought him his own, a cheap little acoustic. By the time he was eleven Angus had flirted with a tutorial course, but he prefered to learn by himself and most of his musical education was pure trial and error. While his older brother Malcolm Young was hatching plans for his new band, Angus was well on his way toward establishing a distinctive stage persona. His spasmodic, seemingly out-of-control onstage body language has always come naturally. Such trademark Angus moves as his patented duckwalk and his on-the-floor body spasms could be handy attention-getting devices when playing for drunken, rowdy barroom crowds. Many of these gestures grew out of accidents.
One night Tantrum, the pre-AC/DC band Angus was playing with, was going down really badly. Angus walked across the stage and tripped over the guitar lead, so he felt a right dick and he kept running across the floor. He made it look like a death scene, screaming all hell from the guitar. It was the only clap they got that night. Angus told his brother about it. Malcolm Young asked him to join the band he was putting together.


21 - Randy Rhoads (Ozzy Osbourne)
Randall William "Randy" Rhoads (December 6, 1956 – March 19, 1982) was an American heavy metal guitarist who played with Ozzy Osbourne and Quiet Riot. A devoted student of classical guitar, Rhoads often combined his classical music influences with his own heavy metal style. While on tour with Ozzy Osbourne, he would seek out classical guitar tutors for lessons. Despite his relatively short career, Rhoads is a major influence on neo-classical metal players that emerged in the 1980s such as Yngwie Malmsteen, Michael Angelo Batio, and Jason Becker.He is cited as an influence by many contemporary heavy metal guitarists, including longtime Osbourne guitarist Zakk Wylde.
22 - Tony Iommi (Black Sabbath)
Frank Anthony "Tony" Iommi (born February 19, 1948) is a guitarist from Birmingham, England, who is best known as a member of the heavy metal band Black Sabbath. Though Ozzy Osbourne may have been the most visible member of Black Sabbath, it was Iommi who wrote nearly all the band's music and led the band in terms of musical direction. In a Spring, 1986 interview with British heavy metal magazine Kerrang! he said, "in the early days I did make all the decisions...but we split the songwriting credits four ways...this is my band...every band needs to have someone in control to direct, cajole and, if necessary, admonish.
"Iommi picked up the guitar as a teenager, after being inspired by the likes of Hank Marvin and The Shadows. In an industrial accident at the age of 15 on his last day of work in a sheet metal factory, he lost the tips of the middle and ring fingers of his right hand - which, being left-handed, he uses to fret the strings of a guitar. At first he thought his days of playing guitar were over. However, his boss, who knew of his "night job" as a pub band guitar player, paid him a visit during his recovery. During the visit, his boss encouraged him to reconsider. He played a Django Reinhardt record which inspired Tony to pick up the guitar again (Reinhardt lost mobility in the third and fourth fingers of his fretting hand in a fire). After trying to learn to play right-handed, he instead strung his guitars with extra-light strings (which he created himself by intertwining banjo strings) and wore plastic covers that were made from bottle caps over those two fingers (which he covered with leather, so he could grip the strings properly). His accident also had an impact on the Black Sabbath sound: after some time Tony detuned his guitar from E to C# (1 and 1/2 steps down) in order to ease the tension on his fingers, making Sabbath one of the first bands to detune. This idea is now a mainstay of heavy metal music. Black Sabbath bassist Geezer Butler also tuned his instrument down to match Iommi's.
Iommi has played in several blues/rock bands, the earliest of which being The Rockin' Chevrolets between 1964 and 1965. The band had regular bookings and when they were offered work in Germany, Iommi decided to leave his factory job to take up the opportunity. It was during his last shift in the sheet metal factory that Iommi lost the tips of his middle and ring fingers in the aforementioned incident.
Between 1966 and 1967 Iommi played in a band named The Rest. This was the first time Iommi played with old school friend and future Black Sabbath drummer Bill Ward.
From January of 1968 till July 1968, Iommi was guitarist in Mythology with Ward joining a month later in February. In May 1968, police raided the group's practice flat and found cannabis resin which resulted in a £15 fine and a two-year conditional discharge for Iommi, Ward and the other band members - Smith and Marshall. With no money and low morale, Mythology split up after a gig in Siloth on 13th July, 1968.
In August 1968, at the same time as the break up of Mythology, a band called Rare Breed also broke up. Rare Breed vocalist John "Ozzy" Osbourne and rhythm guitarist Terry "Geezer" Butler joined with Iommi and Ward from Mythology and also slide guitarist Jimmy Phillips and saxophonist Alan "Aker" Clarke. The six-piece band, now with Butler as bassist, were named the Polka Tulk Blues Band. After just two gigs - the last of which being at the Banklands Youth Club in Workington - Phillips and Clarke were dismissed from the band, whose name was shortened to simply Polka Tulk after this.Iommi, Butler, Ward and Osbourne renamed their band in September 1968 to Earth. They carried on under this moniker until August 1969. Iommi briefly left in this period to play in Jethro Tull. However after only one performance (an appearance on "The Rolling Stones' Rock'n'Roll Circus" in which the band mimed to "A Song For Jeffrey", whilst Ian Anderson sang live), Iommi was back with Earth once more.
In August 1969 - after confusion with another group named Earth that had some minor success in England - the group renamed themselves to Black Sabbath.Tony Iommi says about his working-relation with Jethro Tull vocalist Ian Anderson, which may have contributed to the success of Black Sabbath.
23 - Ritchie Blackmore (Deep Purple / Rainbow)
Richard Hugh "Ritchie" Blackmore (born 14 April 1945) is an English rock guitarist, best known for his work in Deep Purple, in addition to his solo band Rainbow where he was the sole constant band member through numerous personnel changes. His currentfolk rock duo is the Renaissance-influenced Blackmore's Night with his (now) wife Candice Night. He changed his musical approach multiple times following each lead singers' departure, as a result confusing and alienating much of his supporters.Blackmore started his music career as a session player in the early 1960s. He lives in the U.S. since mid-1970s.
24 - George Harrison (The Beatles)
George Harrison was born in Liverpool on the 25th of February 1943 (later he said he found out his birthday was really on the 24th). His father Harold was a bus driver and his mother Louise was a housewife.
George's first house was a little "two up, two down" house 12 Arnold Grove, Wavertree. It was rather cramped for George, his parents,his two brothers Harold and Peter and his sister Louise, but in 1950 (after being 18 years on the waiting list) the family finally got a new Council house at 25 Upton Green, Speke. They moved there the day after New Year's Day 1950.
George attended Dovedale Primary school, two forms behind John Lennon. At first he was a good enough scholar to pass the eleven-plus examination and go to the Liverpool Institute (the city's best high school for boys), but once in the school he began to lose interest in his lessons and failed his exams. He was also very rebellious and started wearing tight drainpipe trousers and growing his hair as long as he could, against the school's "short hair" regulations.
Paul McCartney went to the same school as George (one form above) and he took the same bus as George to school. They met each other on the bus and soon found out they were both into music, so Paul introduced George to John Lennon, of whose band The Quarry Men he was a member. At first George was considered too young to join the group, but he kept hanging around with them and following them to all their party engagements so he finally became a member of the band.
After changing name a couple of times, the group finally settled down to "Beatles" in 1960. In August 1960 the group (consisting of John Lennon, Paul McCartney, George Harrison, Stuart Sutcliffe and Pete Best) set off for Hamburg, where they were engaged to play at the Indra Club and then, after it closed down, at the Kaiserkeller, both in the red-light area of Hamburg and both owned by Bruno Koschmider. Their collaboration ended after the Beatles started playing at the Top Ten Club, against the agreement that said they were not allowed to play anywhere within a radius of 25 miles without Koschmider's permission. Koshcmider handed them a month's termination of contract notice and soon after, the police somehow found out that George was not 18 yet and so it was illegal for him to stay- let alone work- in a club after midnight. George was deported and sent back to England and soon after the rest of the band followed, after Paul and Pete were accused by Koschmider of trying to set fire to a cinema he owned.
The Beatles return to Liverpool signaled the start of Beatlemania and also the start of the Beatles' playing at the Cavern Club. They returned to Hamburg to play at the Top Ten Club in mid-1961 where they also made a record, backing Tony Sheridan on My Bonnie and When the Saints Go Marching In. It was this single that allegedly brought then to the attention of Brian Epstein, who eventually became their manager. Brian secured them an audition with Decca Records on New Year's Day 1962 which they failed to pass, but they finally got a contract with EMI's Parlophone label. As the band's popularity began to rise and Beatlemania conquered the world, George was at first overshadowed by the songwriting talents of the Lennon/McCartney team. He soon began to write more and more songs of his own, however, and he eventually showed that he was as talented as Paul and John, although many people still don't appreciate him at his full value.
During the filming of A Hard Day's Night George met model Patti Boyd. He fell in love with her and asked her out was for a date. Patti refused at first, because she already had a boyfriend, but George was persistent so she finally yielded. They started going out and soon Patti split up with her previous boyfriend and moved in with George. They got married on 26 January, 1966.
By the end of 1965 George was already beginning to get very interested in Indian music and culture. He bought a sitar -though he had no idea how to use it at the time- and had the idea of adding sitar chords to John's Norwegian Wood- the first time a sitar appeared on a pop record. He started writing India-influenced songs like Love You To and Within You Without You and at the end of 1966 he spent a month in India, studying the sitar, Yoga, Indian philosophy and culture. He also wrote, recorded and produced the soundtrack for the film Wonderwall with Indian musicians in 1968. On 25 August 1967 George travelled with the other Beatles to Bangor, North Wales to attend a course on transcendental meditation by the Maharishi Mahesh Yogi. They all found meditation really interesting and decided to go to India for three months in early 1968, to study it more in depth. The visit didn't go at all as well as intended, though, and the Beatles returned to England earlier then planned, disillusioned with the Maharishi and although they said it was only him they were abandoning and not meditation, neither subject was mentioned much again. George's love for Indian music and culture remained, however, and he still has Eastern spiritual beliefs.On 12 March 1969- the same day that Paul and Linda were getting married- Patti answered the door of the bugalow where she and George were living to find the police. They had a warrant to search the house for illegal substances. They found some marijuna, and George and Patti were charged with cannabis possesion. They pleaded guilty, although they said they had no idea the drugs were where they were. Ironically, the sergeant who had searched their house was charged a few months later with planting drugs on an innocent suspect.Meanwhile, tension was building up between the members of the Beatles, and by early 1969 they were on the verge of break-up . After quarrelling with both Paul and John, George left the group and, according to press reports, travelled north to visit his parents. He returned after about a week, having decided to stay with the group, but this did not mean the end of the tension or the problems. George was quite pleased to go on tour with Americans Delaney & Bonnie in December as an anonymous member of their backing group, Friends, along with Eric Clapton. He knew it was his only chance to return to the concert stage without making huge headlines in the press or been really noticed at all- he could just slip on at the back of the stage fairly unnoticed. He also produced a recording of the traditional devotional chant "Hare Krishna Mantra" by the Radha Krishna Temple in September, which surprisingly became a hit at the time.1970 saw the official break-up of the Beatles. For George, that was a good chance to go off and record all the songs he had written that he's been holding back during the last 2 or so years. The result was All Things Must Pass, a double album with an extra disk containing a jam session from the studio. The album features guitar contributions played by Eric Clapton and many people consider it George's best solo work. However, George was sued for allegedly copying the hit My Sweet Lord from a song called He's So Fine. The case continued until 1976, when George was found guilty of "subconsciously" plagiarizing He's So Fine.In 1971 George organized a charity concert for Bangladesh. Other people playing included Ringo Starr, Bob Dylan, Eric Clapton, Billy Preston, Badfinger, and Ravi Shankar. The songs from the concert were later released on record. George also toured the United States in 1974, but the tour got bad reviews and George was criticized for being experimental in music and not playing any Beatles songs. The fans weren't too enthusiastic either, and George didn't tour again until 1991 (17 years later).At the same time, George's marriage to Patti was also falling apart. George had cheated on Patti a few times and they were gradually growing apart for other reasons as well. Finally, after years of discord, George and Patti divorced in 1977 and Patti later married George's friend Eric Clapton, who had long been in love with her. George did not consider that Eric had stolen his wife or anything, however, and to this day they still remain friends.Meanwhile, George had met and fallen in love with Mexican-Californian Olivia Arias, who was working as a secretary in his Dark Horse record company. They had a son, Dhani, born on 1 August 1978 and they married soon after. In 1980, George published his memoir, I Me Mine, which he dedicated "to gardeners everywhere", because, as he said in the book, he now looks at himself as a gardener.George was quite active during the 80's. He wrote a tribute song to John called All Those Years Ago in 1981, on which all the ex-Beatles collaborated. He also released Cloud Nine in 1987, which contained hit songs such as Got My Mind Set on You and When We Was Fab. Then in 1988 he became a member of The Travelling Wilburys, a band consisting of Bob Dylan, Jeff Lynne, Tom Petty and the late Roy Orbison. He was also involved in film-making, as the co-owner of the production company HandMade Films which has made film such as Monty Python's Life of Brian (where George does a cameo appearance) and Time Bandits.In 1994, George got together with the other two remaining Beatles to record Free as a Bird and Real Love for the Beatles Anthology. He was also interviewed, along with the other Beatles, for the Beatles Anthology TV series and for what later became the Beatles Anthology book.But in 1998, George was diagnosed with throat cancer. He came off well (as he said, "they found out it was more of a warning than anything else"). Then in late 1999, a man broke into George's house near Henley-on-Thames and threatened to kill George with a knife. He was insane and believed the Beatles were "witches". George was stabbed in the chest but luckily he survived the attack thanks to the help of his wife Olivia, who hit the attacker on the head with a poker and a table lamp, and thanks to early arrival of the police. George recovered, but unfortunately he was again diagnosed with cancer in 2001. He underwent treatment for lung cancer in March, but a brain tumour was found a few months later. After undergoing treatment for it in a Swiss clinic and trying a new type of therapy as a last chance in America, George died of the disease on November 29, 2001.
RIP George, we'll never forget you
source : www.google.com